Music Programs for Burlington Rockers + School Break Camps!
We provide more than private music lessons. We think of ourselves as a place for individual learning and creators of an environment that unleashes the power of musical creativity in a collaborative group setting. Our specialty programs are fun and helps students apply skills with peer musicians!
Parents, check out our programs for school holidays! Learn more about our summer & March break camps.
Specialty Music Programs Featuring Rock Shop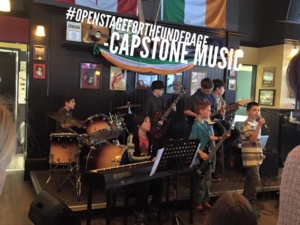 Rock Shop
The place where we develop and put your skills to the test. We will have you learning top 40 pop & rock songs with a group of like minded musicians, developing your own stage presence and finding out what being in a band is all about. Behind the cool exterior of RockShop is a foundation based the fundamental elements of listening, speaking and sharing opinions and ideas that all great team building programs expect!