Piano Lessons – Learn Piano Your Way
Piano lessons at Capstone Music can be traditional…or not! The key is to learn and play in the style of your choice. Our piano teachers are industry professionals and real performing piano artists. Although classic "conservatory" style piano lessons are available, many of our students opt for a modern introduction to the instrument and before long you'll be playing your own favourite piano tunes.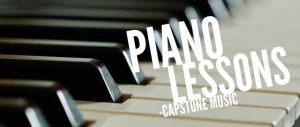 Whether you aspire to be a concert pianist or just improve your keyboarding skills to play your favourite pop songs, we  have piano lessons and the piano instructors to help you achieve your learning objectives. Gain piano skills while having fun!
I was looking for piano lessons near me and found Capstone Music. The I checked their online reviews and had to go visit. I'm loving my piano teacher and I'm improving fast. Just what I wanted and local to boot!
Lessons for Children & Adults
Piano lessons are not just for kids. Many students have had a life long passion for music and never had the opportunity to learn how to play an instrument. The piano can be a great way to learn music whether you're playing for yourself or wish to play for your own children. If playing piano has been a dream of yours, then let Capstone Music help make your dreams come true. Why not?
A Beginner at Piano? No Problem.
If you or your child is a beginner at piano, then we're the place for you. At Capstone Music, our introductory lessons help put you on a great path to enjoyable learning – and piano playing! We teach at the student's pace, which means as fast or as slowly as required. Our piano teacher's are patient and focused on bringing out the best in each student. We'll pick up wherever you're starting from, and you'll be surprised at the progress you'll make playing piano in just a few short weeks.
Sign up for Piano Lessons Today!
Private piano lessons are one-on-one with a teacher specializing in the style of your choice. Lessons are scheduled at the same time weekly and can be a half-hour in length (appropriate for beginners) or a full hour in length (for intermediate or advanced students). For the best piano learning experience, contact us today for registration!
Have you dreamed of playing the piano or keywboard? Book a visit – now's your time!
Contact us now to register for piano lessons or learn more!