Drum Lessons for Children and Adults
Some of the best drummers in Southern Ontario are at Capstone Music in Burlington. Learn from real performing drummers to learn the drums in a fun, relaxed environment from real Drum Musician-Teachers!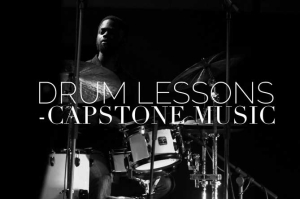 Whether you're a beginner drummer or have played already, our teaching environment will help you excel and develop into a top notch percussionist! Want to try learning the drums before investing in your own drum kit? Great idea! You can develop your passion with lessons and then play at home.
Private drum lessons are one-on-one with a teacher specializing in the style of your choice. Lessons are scheduled on the same day and at the same time each week. Drum Lessons can be a half-hour in length (appropriate for beginners) or a full hour in length (appropriate for intermediate or advanced students).
I was looking for drum lessons near me in Burlington and Capstone Music was exactly what I wanted! So glad I found them nearby!
Sign up for Drum Lessons Today!
Children and adults alike love playing the drums, and we're here to teach while keeping it fun. Learn the basics through to advanced drum techniques.  Before you know it, your friends and family with think you're a drumming pro.
You've always wanted to play the drums, so start your musical journey today with us.
Contact us now to register for drum lessons! We also invite you to meet our Burlington music school and team. Whether you want to learn drums yourself or sign up your child for lessons, come visit us today for a tour.