Join Us March 11th-15th 2019 for an Amazing March Break Experience
Register Early!
Our Remarkable Kids program includes indoor and outdoor activities ranging from playing music, musical games, team challenges, performance prep & crafts, costume/band design, to outdoor park excursions, playground games, team challenges and much, much more!
Register Early!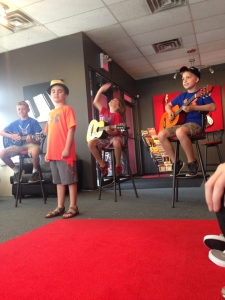 Get ready for a remarkably fun time!

Bring a friend and make new ones!

Explore all our fun indoor and outdoor activities!

Easy pickup and drop off for parents!

Excellent value for the quality of program!

Reserve your spot(s) today!

No musical experience necessary (open to all!)
March Break 11th-15th 2019 
Are you looking for kids activities for entertainment over the spring break?
Capstone Music is proud to invite your family to join in our MARCH BREAK week long half day camp "Remarkable Kids"!
Each day we will be travelling somewhere in the world to experience new and  different music from many cultures! Who knows, we could be yodelling in the Alps, singing the bayou blues of New Orleans, dancing to German house music or trying out different crazy instruments…without even leaving the country.
There is no prerequisite musical experience (and if your children have instruments of their own they'd like to bring, they're welcome to!)
Bring warm clothes as we will venture outside plus a water bottle and snack (for energy and musical sustenance)
The more children that participate, the more fun it is! So invite friends, cousins and siblings to join in. Spread the word for a unique and fun March Break experience for all children!
Please contact us early to book or inquire about our Remarkable Kids musical day camp!
Thanks for this amazing, local program. The kids loved the activities and the teachers. Will definitely sign up for next year!
I felt great dropping them off and the children had a loads of fun. Thank you Capstone Music!
The March Break music program is really different and was not all about music (but was a great intro) and just great fun for overall. I'd send my daughter again for sure!