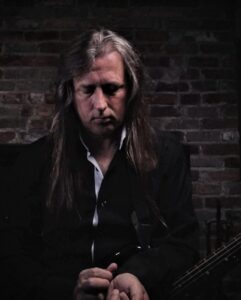 Paul Hampson – Guitar Instruction
Canadian musician Paul Hampson began his music career in the 1980's. After completing his degree in music at Western University he spent the next 25 years performing and teaching throughout Canada and the United States. A multi instrumentalist, he has toured extensively with numerous large production tribute shows including, ABBA, Aerosmith, Tom Jones, Alanis Morrisette & Cher to name but a few.
Sharing the stage with legendary musicians such as Long John Baldry, Michael Burgess and Jeff Healey, he has helped guide current artists including Myles Erlick (the next step, Billy Elliot), Vivian Hicks (American Idol, Tik Tok) Michela Luci (Emmy winner for Dino Dana) and G-Force (Juno Nominated, Americas Got Talent finalist) to stages, television and recording studios throughout. An accomplished classical guitarist Paul released two solo classical guitar albums and has played on over two dozen recordings.
Paul Continues to perform throughout as a solo artist.
Contact us to meet Paul and the Capstone Music team for guitar lessons!