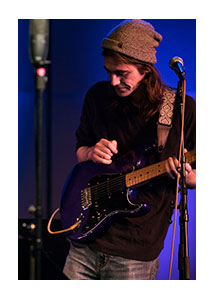 Ciarán Galati – Guitar Instruction
Hailing from the Greater Toronto Area, Hamilton-based musician Ciarán Galati is an incredibly diverse guitar player with a limitless passion for art and creative expression.
At the ripe young age of twenty-one, Ciarán has been playing his instrument of choice for ten years and plays in a wide variety of styles and settings. Starting his focus in classic and progressive rock and honing his focus in jazz, Ciarán's musical development has led him to explore a plethora of genres and sub-genres of music. These include jazz, rock, blues, funk, soul, hip-hop, rhythm and blues, indie, alternative, folk, punk, and most recently the avant-garde.
His most recent accomplishment is graduating from the Mohawk College music program, during which he studied under masters such as Pat Collins, Adrean Farrugia, Darcy Hepner, Michael Stuart, and Bob Shields.
Contact us to meet Ciarán and the Capstone Music team for guitar lessons!