In Partnership with Whole Tone Therapy, Capstone Music is proud to introduce our newest addition in our ongoing commitment to bringing the benefits of music to a wider audience.  Capstone Creative Therapy (CCT) sessions use music and the arts in therapy as intentional tools for motivating change in specific areas of health and well-being. This does not involve the teaching of an instrument, but is designed to target a variety of healthcare goal areas through individually curated music and creative arts activities.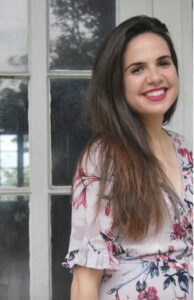 Hello, I'm Alicia. It's so nice to virtually meet you! I am a Registered Psychotherapist (Qualifying) with the College of Registered Psychotherapists of Ontario (CRPO), as well as a music therapist and music educator. ​In educative and therapeutic contexts, I've had the incredible opportunity to work with children and adolescents with a variety of special needs (i.e. autism, down syndrome, cerebral palsy, and developmental delay), as well as those who are dealing with anxiety, trauma, and eating disorders. In addition to younger client populations, I have also worked with adults with schizophrenia, dementia, and brain injuries. Through all of these experiences, I have learned that my passion lies in working with individuals with special needs and mental health concerns.
​I am rooted in a holistic approach to wellness and firmly believe that music is an outward expression of the inner self. My life calling is to see people grow, heal, and find out who they truly are.
This therapeutic programming can support individuals of all ages with:
–       Developmental disorders 
–       Autism 
–       ADHD 
–       Anxiety 
–       Depression 
–       Trauma 
–       Behavioural management concerns 
–       Self-esteem issues 
–       Lack of motivation 
–       Family dynamic challenges 
–       …and so much more!
What we are currently offering
o   Adapted/therapeutic lessons   o   Music therapy   o   Psychotherapy
FAQ – CAPSTONE CREATIVE THERAPY
What is music therapy and how can it help my son/daughter/me? 
Music therapy is a healthcare profession that uses music and creative arts activities in therapy sessions to motivate change in specific areas of health, well-being, and development. At Capstone Creative Therapy, sessions can support individuals with a range of special needs, as well as those with mental health concerns. Music is the only activity we can do as humans that engages all areas of the brain at once, and that is why the inclusion of it in therapy is so highly effective.
What are the differences between music therapy and music lessons? 
Music therapy – just like any other type of therapy – is led by a clinical therapist that has training to create goals and interventions that are specifically designed for the individual client's needs. Sessions do not involve the teaching of an instrument, but instead are designed to target what the client needs to work towards based on their individual diagnosis. Music is used as the motivator to achieve these goals. For example, when working with a child with autism who needs to work on verbal communication skills, we would design a treatment plan based on their communication needs and customize each session with the appropriate musical interventions to make evidence-based progress in their goal areas. Music lessons, however, are led by a music teacher and focus on developing musical growth/skill on a specific instrument/set of instruments. The primary goals are musical and are designed to help the individual student succeed on their personalized musical journey. Music lessons can be very therapeutic, but they are not considered legitimized and ethical therapy.
What are each of the services you offer and what do they cost? 
Services operate in 3 levels: 
Adapted Music Lessons: $35/half hour (tax exempt) 
o Specialized music curriculum and pacing to suit individuals of all ages, stages, and
complex needs o Student-centred approach that targets musical growth, while acknowledging and
working with their individual needs
Music Therapy: $50/half hour, $80/hour (+HST) 
o Developmentally focused therapy designed for children with special needs to target self-expression, communication, behaviour, and social skills through individually curated music activities
Creative Psychotherapy/Counselling: $100/50-minute session (+HST) 
o Emotionally focused therapy designed for individuals with various mental health concerns (i.e. anxiety, depression, trauma, etc.) to build coping skills, heal, and overcome their challenges through verbal discussion and creative arts interventions
How does therapy work and how long is the process? 
Therapy is very different for each person, and it really depends on the individual goals they need to achieve. It could take anywhere from a few months to a few years. A typical process involves the creation of clinical goals and a treatment plan. In the first session, intake forms will be filled out to explain confidentiality, risks and benefits to treatment, as well as ethical considerations. From there, the client will work through their individual concerns in partnership with the therapist who has the desire to help them achieve their goals.
Can I receive insurance coverage for these services? Are they covered by OHIP? 
OHIP unfortunately does not cover these services. HOWEVER, you may be able to receive partial or full coverage for creative psychotherapy/counselling services through your private extended health benefits plan (i.e. SunLife, Manulife, etc.). It is important that you contact your private insurance provider directly to find out if services from a Registered Psychotherapist are covered as we do not direct-bill to companies. We will, however, provide receipt for your submission. As for developmental music therapy and adapted music lessons, they are not eligible for coverage at this time.
Is my information confidential in therapy? 
As always, therapists are ethically required to keep all information about the therapy process confidential. However, there are a few exceptions to this that require us to legally breach confidentiality:
If you disclose that you are intending to harm yourself or others
If you disclose that there is harm or risk of harm to a child
If you disclose that you or someone you know is being abused by a licensed professional (i.e. a doctor, nurse, therapist, etc.)
If your therapist's case notes are subpoenaed for court
As a parent, am I allowed to be informed of my child's progress in therapy? 
If your child is able to consent to therapy alone (i.e. can verbally and cognitively understand what they are consenting to) and are able to sign their own name on the intake forms, it is up to their discretion what information you are entitled to as a parent. A parental waiver of rights can be signed if your child does not wish to disclose their progress to you. As there is no legal age of consent in Ontario, practitioners must respect the wishes of the client (i.e. the consenting child). However, if your child is unable to consent alone (i.e. cognitively and/or verbally unable to), you as the parent will be aware of what is happening throughout the therapeutic process and must provide consent for your child.
How does billing work? 
Billing goes through Whole Tone Therapy and there are a few payment plan options available. Please contact Alicia House directly for more information: 289-439-9872 wholetonetherapy@gmail.com
Are there groups available, as well as individual sessions? 
Groups will be available in the near future. As of right now, we are offering just individual sessions.
Do you offer sliding scale rates? 
At this time, we do not offer sliding scale rates.
Please call us or email for more information